The Passing of Lothar Pinkers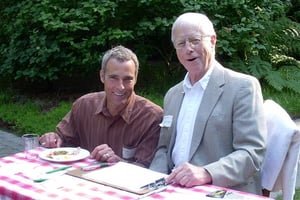 Dr. Lothar H. Pinkers
Community service was his life. The Park is especially grateful for the years Lothar served as President of the Washington State Horse Park Foundation during the Park's early years of operation. His knowledge of corporate governance and deep experience managing horse events were invaluable during that formative period. He could be stern when needed but had a generous spirit and a heart of gold. He is missed.
A life well lived….
After years of service to his community, his friends and his family, Dr. Lothar H. Pinkers died quietly in his home on July 4, 2017 at the age of 85. Lothar was born in St. Louis, MO. and graduated from medical school at Washington University.
To see Lothar only through his career as a doctor is too narrow a vision. He never saw a problem he couldn't fix or opportunity that he didn't pick up. He wore the additional hats of a square dance caller, a teacher, scout leader, law maker, equestrian, builder, landscaper, printer, handyman, practical joker, counselor, husband and much beloved father.
Dr. Pinkers was one of the founding doctors of Overlake Hospital in Bellevue, WA. He opened his private practice in Bellevue, WA in 1962 and began a journey to bring emergency medicine to the state, write and teach the first EMT curriculum at the Bellevue Community College, and help design legislation to create trauma and emergency medical services standards. His goal: "the best care anywhere."
He went on to Chair numerous state and King County committees on emergency medicine. At Overlake Hospital Medical Center, Dr. Pinkers set up the first call system for doctors, helped to form the first intensive-care unit, and served as the chief of staff, chief of surgery, a board trustee and chairman of the hospital's building committee for the construction of the East and West wings.
After his own adventures as a Boy Scout, he became Cub Scout Master and started a Boy Scout troop in Bellevue as his son advanced through the program. He combined his love of medicine and scouting by volunteering as camp doctor and scheduling doctors for local scout camps for 15+ years. He was awarded the Silver Beaver award for distinguished service to Chief Seattle Council of scouts.
In the 1990's Lothar began taking riding lessons and joined the Lake Washington Saddle Club where he helped run shows. He went on to become President of the Horse Foundation of Washington, a Director and Board member for Equestrians Institute, and he helped craft legislation to support equine industries in Washington. As he pursued his passion for riding, he took lessons in dressage and joined the Board of Dressage NW. In 2006 Lothar and his horse made a centennial ride in dressage which means the age of the horse and rider equal 100. Lothar became a technical delegate for the American Horse Show Association and worked to make sure dressage events are conducted properly and protect the best interest of the horses. In 2010 Lothar joined with many other dedicated volunteers in launching the Washington State Horse Park in Cle Elum, WA, marking the culmination of so many dreams.
Lothar married Caroline Jane Nichols, the "love of his life", and ever his partner in all adventures, in 1954 and celebrated their 60th wedding anniversary shortly before her death in 2014. He is survived by his four children Art (Margie), Beth, Christie Hammond (Jerry) and Diane (Bill), four grandchildren Kael, Rowan Illum (Jared), Jon and Virginia, and one great-granddaughter Lila.